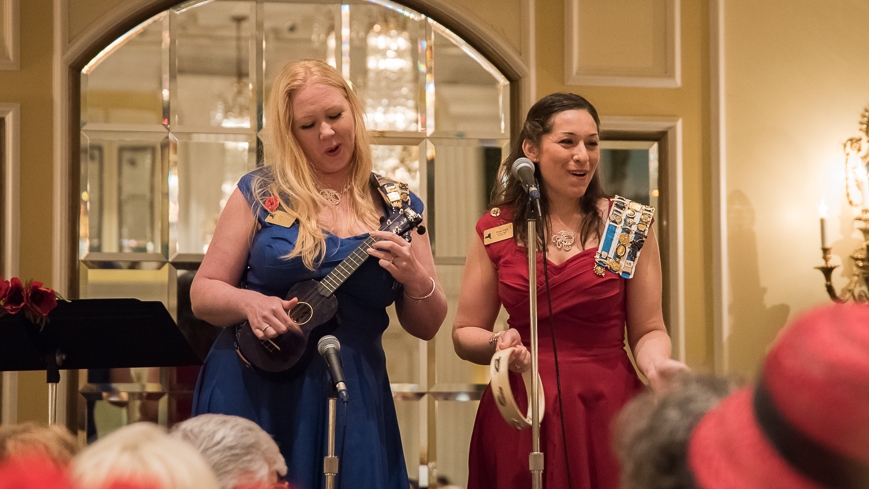 Below are past shows the Revolutionary Warblers have performed... but we love creating new shows too!
Let us know if you'd like us to craft something special for your next event!
Each show runs 20-30 minutes but can be adjusted to fit your needs.
Drums Rum-Tumming Everywhere: Songs of WWI
World War I had a significant cultural impact both at home and abroad. Emotionally charged and politically motivated, the music of the era rallied soldiers and civilians alike to fight, support, and remember. Discover the origin stories and legacies of the Great War hits (with a few extra surprises along the way!)
Featuring:
Over There, Keep the Home Fires Burning, Sister Susie's Sewing Shirts for Soldiers, How Ya Gonna Keep 'Em Down on the Farm, In Flanders Fields and more!
Flickering Treasures:
Songs of the Cinema
The movie musical is one of the most magical genres of film history thanks to its use of song and dance to tell a story. Join the Warblers as they musically guide you through motion picture history—from the very first "talkie," to the golden age of cinema, to the rise of the Disney princesses!
Featuring:
Blue Skies, Over the Rainbow, Good Morning, Moon River, A Hard Day's Night and more!
Soldier Boys: Songs of the
Troops throughout History
*** Also available: Thanksgiving with the Troops, a similar program but with a "home for the holidays," Thanksgiving spin!
Throughout history, many wartime songs have been written to honor the bravery, dedication and sacrifice of our troops. Join the Revolutionary Warblers as they recount a history of songs about these brave men and women, from the American Revolution to modern day.
Featuring:
Liberty Song, Battle Hymn of the Republic, Johnny Has Gone for a Soldier, Boogie Woogie Bugle Boy, Soldier Boy and more!
The battle for woman suffrage took almost 75 hard-fought years. As we approach the centennial of the passage of the 19th amendment granting women the right to vote, we celebrate and honor the achievements of these remarkable women through their stirring songs. Learn about their trail-blazing propaganda, their radical tactics, and even a bit about the ladies who were opposed to it!
Featuring:
The March of the Women, The Suffrage Flag, Keep Woman in her Sphere, She's Good Enough to be Your Baby's Mother, Sister Suffragette and more!
The Buttons Which Bring Us Together
Did you know that the first American political slogan was actually a rip off from the Brits? How about the origins of the "peace" symbol, or the connection between the WWII phrase "V for Victory" and Beethoven's 5th Symphony? Join the Revolutionary Warblers for a program on the stories and songs of prominent political campaigns and social movements that have been featured on popular pinback buttons, spanning from George Washington's inauguration in 1789 to modern day!
Featuring:
Tippecanoe and Tyler Too, Happy Days Are Here Again, I Like Ike, High Hopes, We Shall Overcome and more!