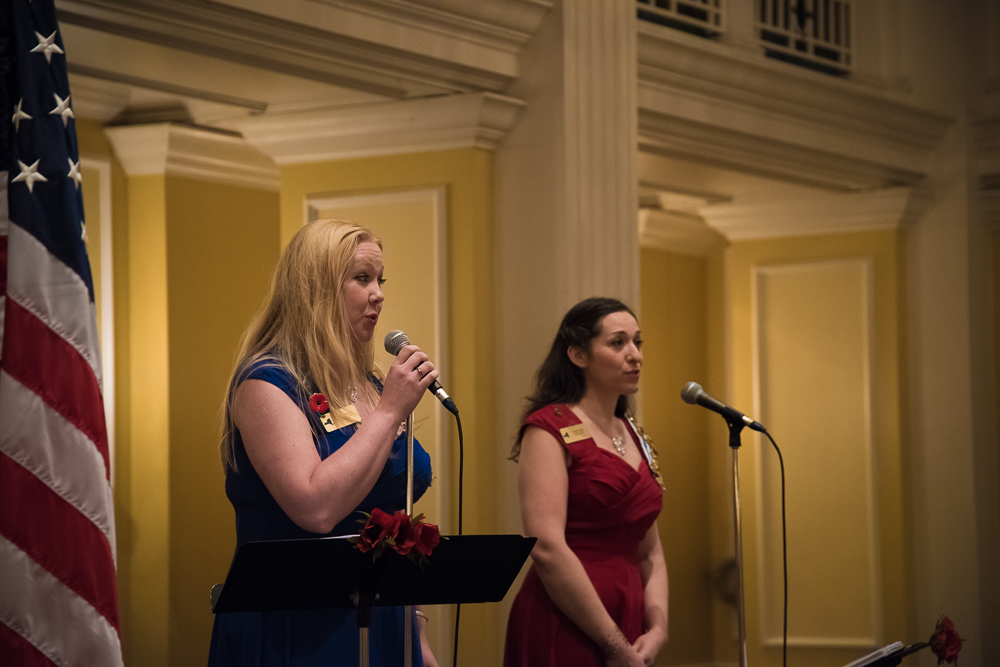 The Revolutionary Warblers are a New York-based, historical singing duo comprised of performers Gyda Arber and Elysia Segal.
By combining their backgrounds in music, theatre and historical interpretation, their work brings history to life, making it engaging, thought-provoking and fun for all ages. Their previous performances include a fully immersive Pearl Harbor commemorative event, a mini-musical set on board a vintage subway car at the New York Transit Museum, and historically-themed programs for a number of DAR State Societies, the Brooklyn Sons of Norway, and Purple Hearts Reunited. No strangers to the New York theatre scene, they have also independently performed at venues including Lincoln Center, The Public, Joe's Pub, the Lucille Lortel Theatre, and a number of museums.
GYDA ARBER SABAUGH has appeared at Lincoln Center, The Public, Joe's Pub, and most frequently at The Brick, in shows including Fassbinder's Blood on the Cat's Neck ("Phoebe Zeitgeist, an excellent Gyda Arber"—New York Times), Greed: A Musical Love $tory (Anna Nicole Smith), the English-language premiere of Vaclav Havel's Mountain Hotel, Ian W. Hill's noir pastiche World Gone Wrong, and the musical Ich Liebe Jesus! She also serves as the executive producer of the Game Play festival, a celebration of video game performance art. A San Francisco native, she has a degree in musical theater from NYU and is a graduate of the Maggie Flanagan Studio. She is the first vice regent of the Knickerbocker Chapter NSDAR, serves the New York State Organization as Lineage Research Chair and serves at the national level as VIS Northeast Division Vice Chair and as a member of the America 250! Membership Task Force.
ELYSIA SEGAL regularly performs as a historical interpreter and teaching artist at the Intrepid Sea, Air & Space Museum and the New-York Historical Society. She has created a number of educational shows based on historical primary sources, and regularly works with underserved teens throughout NYC to do the same. Credits include: The Legend of Flowers (Lincoln Center); Together This Time: A Rock Musical (Lucille Lortel); Pushing Daisy (Outstanding Actress Nom, Planet Connections); Maureen in RENT (Hackensack Cultural Arts Center); The Who's Tommy (DeBaun Center); George M. Cohan: In His Own Words (Lake Placid Center for the Arts) and numerous characters at Walt Disney World! She holds a degree in Drama from NYU Tisch and is a member of Actors' Equity, Screen Actors' Guild, and Dramatists Guild of America, as well as a board member of the International Museum Theatre Alliance. She is Regent of the Brooklyn Chapter NSDAR and serves the New York State Organization as the State VIS Chair and Vice Chair, Graphics, as well as at the national level as a personal page to the President General's special guests. ElysiaSegal.com